Mitsubishi Used Auto Engines Catalog




Shopping Cart: Items in Cart
Over 25 Million Replacement Parts & Accessories
More Stores...
Discount Used Engines Store
Low Mileage Gas/Diesel Engines
Nationwide Network! Buy Cheap!
1-Year Warranty! FREE Shipping!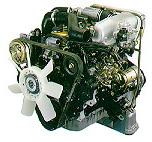 "Mitsubishi" is the name for those categorical people who are not ready to compromise in quality and comfort. Mitsubishi cars are known for their unique combination of design, advanced technology and reliability. They make you feel different from others having a style of your own. Mitsubishi engines have long life, low maintenance costs and large fuel savings. But due to some reasons as poor maintenance, rough driving and many more, your engine might trouble you after some years of service. This is the time you will feel a need to replace your engine with a new one.
Buying old but getting new
Used engines mean a good alternative for failed engines to those who don't want to invest much in their old car. Used engines cost a fraction of new ones and come with a warranty period also. They work with the same efficiency as new engines if purchased from a reliable source and we are the one on whom you can rely without having any fear.
Tips for Selecting a Used Engine
There are so many spare parts in an engine. If any one of these is not up to the task then all your efforts will go waste and you will find yourself in the previous situation of engine break down. If you want to get most out of your money, then you must read following tips that will prove a great help to you to know whether a used engine is suitable for your car or not.
Does the engine sound strange when starting or while driving? If it does then it is not good for your car.
What is the colour of the smoke? If it is grey, then it indicates leakage of water in engine. If it is blue or black, then it indicates engine wear. Don't go for such engines.
Check out for any leakage in the engine.
Look for any grey stuff in engine after it has stopped. If you find any, then it is possible that water has leaked in the engine.

Where you can find a used engine for your Mitsubishi

If you don't want to be fooled by someone then you should contact us without any further delay. We supply engines for all Mitsubishi at lower costs while other dealers might be charging you a hefty price for the same piece. We provide complete satisfaction to those searching for quality and savings without any hassles. Buying an engine from us will make your car almost new, running with the same pace, year after year, mile after mile. We will help you reach where you want to be that is a smooth ride with no engine problems. So leave all your worries and let us do the work for you.
To read more about Used Auto Engines Store, please visit our
Information
page.
Buy Used Auto Engines Here
Choose another store:
Choose another make:



To continue, select your vehicle's model