Mazda Used Auto Engines Catalog




Shopping Cart: Items in Cart
Over 25 Million Replacement Parts & Accessories
More Stores...
Discount Used Engines Store
Low Mileage Gas/Diesel Engines
Nationwide Network! Buy Cheap!
1-Year Warranty! FREE Shipping!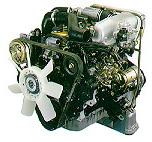 Mazda cars provide a driving pleasure with designs that invite to drive, performance that offers fun to drive, safety features to prevent accidents and eco-friendly features to preserve the natural beauty. With its vision of creating new value, Mazda is on the heights of success. Mazda has a long list of vehicles that have scored high points on customers' expectations. The most recent ones are the Mazda's concept cars. Mazda engines too have a lot of variations that are fuel efficient and hence economical.
Mazda's Engines
Mazda is known for its Wankel engines. They have made several new developments in these engines that have resulted in a family of Wankel engines. Besides these, they have produced engines like V-twin, Straight-4 and V-6.
Remember tips and forget troubles
All engines are usually made up of more or less similar parts. So, the problems encountered with the engines are also the same. If you are worrying that you are not too much experienced to trace out the hidden defects in a used engine, then there is no need to do so. We are providing you some of the valuable tips that will help you in distinguishing a defective engine with a good one:
First have a look at the overall condition of the engine. Clean engines are less likely to fail before their life as they are maintained properly.
Start the engine to check if it runs smoothly and doesn't make any rattling and wavering.
Check the oil level with a dipstick. It should be between maximum and minimum mark. Any bead of water on the dipstick gives a clue of head gasket problem. Such problems are too costly to repair.
Remove the radiator cap to see if there is an oily film on the top that is also a sign of head gasket problem.
Coolant must be clean and green colored. If it appears to be rusty, then don't consider buying it as it is not maintained and serviced properly. Such engines prove to be problematic in future.
Get benefited by our unmatched services
Long is the list of Mazda's vehicles, such that, there is always a high demand for its used parts. But the wise decision would be the one to contact us. You can get any type of engine for any Mazda model you own like Mazda 323, 626, Cosmo, Miata, Rotary Pick up, Tribute any many such famous models. We are committed to satisfy our customers by the quality and value we provide them. The engines offered by us have one year warranty. We also provide ninety day price match guarantee so that customers have a choice to match our prices with other dealers. If they find any difference in the prices, we refund the difference without having any grievances with the customer. Our prices are low as we deal directly with you eliminating the middle man and thus saving unnecessary costs. We value our customer's valuable time so, deliver our orders on time every time. If you don't want to waste your time searching here and there, then come straight to us to avail benefits of best services
To read more about Used Auto Engines Store, please visit our
Information
page.
Buy Used Auto Engines Here
Choose another store:
Choose another make:



To continue, select your vehicle's model