Dodge Used Auto Engines Catalog




Shopping Cart: Items in Cart
Over 25 Million Replacement Parts & Accessories
More Stores...
Discount Used Engines Store
Low Mileage Gas/Diesel Engines
Nationwide Network! Buy Cheap!
1-Year Warranty! FREE Shipping!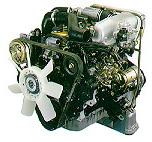 When we speak of trucks, heavy duty vehicles or sport utility vehicles (SUVs), one name that spontaneously strikes in our mind is- "Dodge". Established in 1900, Dodge is efficiently catering the industry's needs for powerful vehicles. The power and performance has made Dodge a class apart from its competitors, in heavy automobile segment. The company was later merged with Chrysler, and the collaboration has delivered the sturdiest vehicles to the automobile industry. From trucks to SUVs, brand Dodge is leading the auto industry in heavier vehicle class. Dodge is able to achieve this feat because of the strong engines its automobiles have. These engines have longer life and trouble free functioning. However, law of decay applies to every entity in this universe and Dodge engines aren't an exception to this. Dodge engines may start showing errant behavior after some point of time. If the problem persists even after an intense repair, then your engine needs replacement. Going for a new engine may prove to be a costly affair, hence you can go for a used one.
Current Market Status for Used Dodge Engines
Market for used vehicle parts is flourishing with a number of vendors with attractive offerings. As Dodge trucks are available everywhere in the US, the market for its used engines also scattered widely. With the introduction of internet shopping, online vendors are also attracting the customers with some of the best deals. With the internet breakthrough, you can purchase the best used engines, right from the cozy chair of drawing room.
Pre-buying checks for Used Dodge Engines
If you have decided to replace the engine of your Dodge auto with a used one, then you must follow some of the crucial guidelines for getting the best deal for yourself. These are:
Common Observations- If you are looking for a healthy used engine for your mighty Dodge automobile, then be attentive, as the seller may vend an ill-functioning engine to you. So, observe the condition of the engine closely and thoroughly check out for its various issues. Check out the gasket and oil pan assembly of the engine, as aged and worn out gasket may lead to leakage or other related troubles. With the help of a torch, make sure that the engine assembly doesn't have any dark oil linings in it.
Checks with Started Engine - Now turn the keys of the engine on and listen to any strange noises it is producing. Make sure that the acceleration rate of the engine is suiting your needs. Modern Dodge cars have Hemi V8 engines, which are synonymous to power in automobile terminology. Aged Hemi engines often pose the problem of defected cylinder and crankcase assemblies. So, when you are buying a used engine for your Dodge car makes sure that the engine is not very old.
Our Services
For replacing the engine of your Dodge, you might have tried different services on internet, and you might have experienced all the hassles in getting a proper deal. Now you can count on us for obtaining the most efficient used Dodge engines in the market. Our engines have an assured 365 days warranty, which will give you the confidence to drive your Dodge and rule the road in style.
To read more about Used Auto Engines Store, please visit our
Information
page.
Buy Used Auto Engines Here
Choose another store:
Choose another make:



To continue, select your vehicle's model